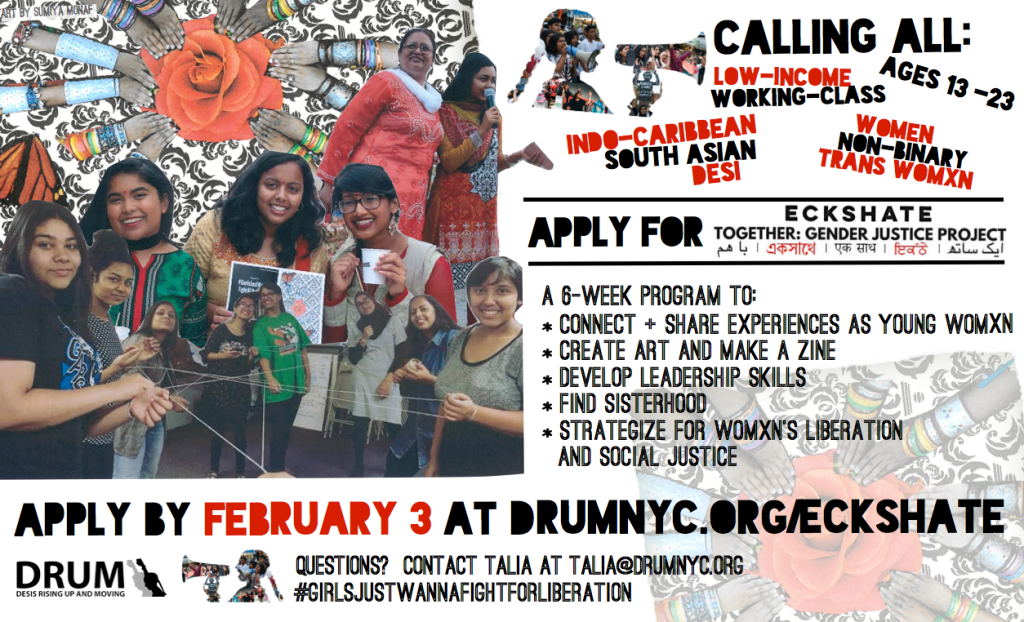 APPLICATION FOR ECKSHATE 2017 IS OPEN NOW! PLEASE APPLY AT THE FORM BELOW.
Eckshate is a program for working-class Indo-Caribbean and South Asian women ages 13-23 to discuss their experiences and struggles, learn they are not alone in the issues they face, and strategize and decide how we can collectively fight for gender justice. Eckshate means "together" in Bangla; it is representative of the need for a united front of South Asian women in the face of gender-based oppression.
When we conducted a survey asking South Asians about gender issues, 82% of survey respondents reported gender-based expectations of how they should behave. Many women in the Indo-Caribbean and South Asian communities face issues like street harassment, not being able to do the same things as their brothers and male counterparts, and deal with issues of abuse. Eckshate brings us together to build sisterhood in our shared experiences, and collectively strategize how to fight for a better, just, and equal world for all people. SUPPORT Eckshate by clicking this link.