Eckshate: Together for Gender Justice
 "Despite the number of struggles working-class South Asian & Indo-Caribbean women have to go through — we are still surviving. We form powerful communities, organizations, and collectives where we come together with our struggles and resist by surviving and fighting for justice. There are so many of us who have for years been in the front lines of fighting for justice interracially in matters of deportations, police violence, and war."
Eckshate is DRUM's leadership development program for young working-class South Asian & Indocaribbean women. Eckshate means "together" in Bengali, and the program was developed by a young woman leader who sought to bring young women together to fight the isolation they experience, build relationships as they heal from oppression, and work together on creating a campaign for gender justice in their communities.
While DRUM organizes directly impacted people to fight for policy changes on issues that impact them, young women in our membership show us that there is work to be done inside our communities too. As a multi-generational membership-led organization, we know the only way to do it is by bringing our whole communities together to reflect on and take action on the way gender oppression impacts women in our communities, from the particular ways immigration and law enforcement affect women to the repression, policing and violence women face in our homes and on our streets.
In the words of Gender Justice Organizer Talia Arif, "Part of the aim of Eckshate is to address the barriers women face to organizing, including pressure from their families not to stay late at meetings, have social contact with boys or men, or be in rowdy public places, like street protests. I feel like everything that I've experienced as a Muslim undocumented young woman led me to be here doing this work."
Since 2016, Eckshate has spearheaded a new model of engaging working-class communities around issues of gender justice - through the anual Dhaba. Dhaba is a Punjabi term for a roadside cafe in India and Pakistan, a public space usually dominated by men. The Eckshate Dhaba flips the male-dominated public space on its head; it's a neighborhood-wide young-women led iniative to reclaim public space for working-class women by engaging different sectors of our communities around womens' liberation, and building community through art and culture.
Talia Arif is DRUM's Gender Justice Organizer in 2017. As organizer, Talia led a second cohort of Eckshate in organizing the Dhaba in Elmhurst Park. As a DACA recipient, Talia became involved in DRUM's campaigns for admin relief and led the 2015 annual Youth Organizing Institute as a summer fellow. Talia worked with 20 other young women to create an intergenerational space for the 2017 dhaba that used art and culture to bring people of all ages together to take action on gender justice.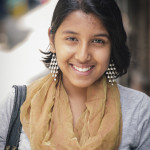 Jensine Raihan is a youth leader and 2016 Gender Justice Organizer at DRUM through the Sadie Nash fellowship. As a youth leader, Jensine was active in DRUM's campaigns for educational justice. She agitated for explicit gender justice programming within DRUM, drafted a proposal for Eckshate, and implemented the program with 18 other young women.  Recently, Jensine was invited to participate in Escola Nacional Florestan Fernandes (ENFF), the national school of Brazil's Movement of Landless Peasants (MST—Movimento dos Trabalhadores Sem Terra).
Get Involved in Building Working-Class Womxn's Power!
If you're a young working-class Indo-Caribbean or Desi womxn in NYC:
If you want to support young womxn's leadership:
If you want to build a Liberated Girls & Womxn Zone in your community:

At the 2017 Eckshate Dhaba, photographs of the hands of Eckshate member's mothers, friends, and community members were displayed to represent the labor - both physical and emotional - women do with their hands everyday.