TRANSFORMING JUSTICE: 15 Years of Weaving Movements Together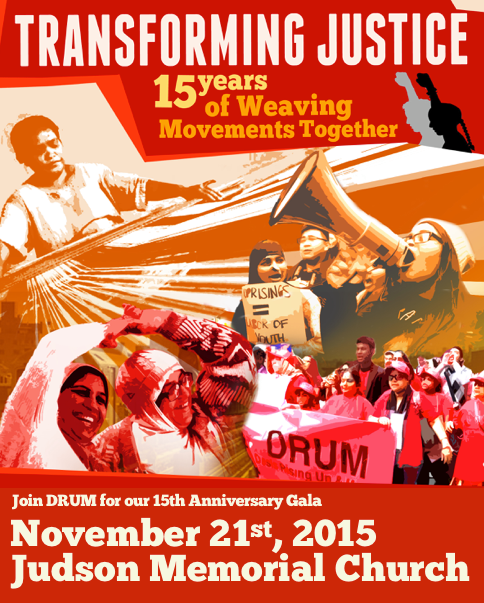 Founded in 2000, DRUM has organized and built the leadership of thousands of working-class, South Asian immigrants to lead social and policy change that impacts their own lives—from immigrant rights to education reform, civil rights, and workers' justice. Our membership of over 2,600 adults, youth, and families is multigenerational and represents the diaspora of the South Asian community – Afghanistan, Bangladesh, Bhutan, Guyana, India, Nepal, Pakistan, Sri Lanka, and Trinidad. In over a decade, we have built a unique model of South Asian workers, women, and youth led organizing for rights and justice from the local to the global. Our cornerstone, reflected in the theme of the Gala, is weaving together strong cross-community alliances across the U.S. and globe to amplify progressive movements- with African Americans, Latinos, Indigenous communities, Arab and Middle Eastern communities, labor, youth, civil rights, and Global South movements from across the world.
Sponsorship Levels
Global Justice DRUMmer – $5000
Full page ad
10 gala Tickets
Acknowledgement in materials
Podium Recognition
 Human Rights DRUMmer – $3000

Half page ad
Logo Display at Gala
Acknowledgement in materials
10 Gala tickets

Movement DRUMmer – $1500

Quarter page ad
Logo Display at Gala
5 Gala tickets

Community DRUMmer – $500

Listing in Gala journal
Acknowledgement in materials
3 Gala tickets
Missed out on the gala? You can still make a donation to invest in grassroots power here!