SOUTH ASIANS HUNGER STRIKE AT EL PASO & LASALLE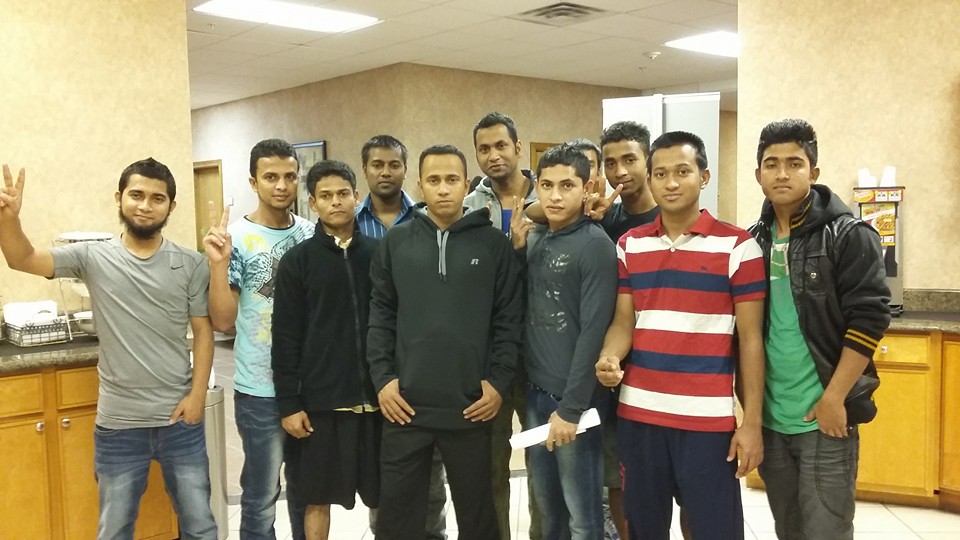 On October 14 2015, 54 South Asian detainees (#ElPaso54) from Bangladesh, Pakistan, and Afghanistan detained at the El Paso Detention Center started a hunger strike. They lasted 7 days without food or water, demanding an end to deportations and an investigation into allegations of mistreatment and medical neglect. By mid-October, another 14 South Asian asylum seekers (#LaSalle14) declared a hunger strike, at the LaSalle Detention Center in Louisiana.
DRUM served as coordination center for the hunger strikes and provided media and legal support for the hunger strikers organizing for their rights.
All of the detainees are asylum seekers who had passed their credible fear interviews and been given a "parole notification" – meaning that they had been interviewed by an immigration agent who determined they face legitimate threats if deported, and that ICE should have released them. Instead, some have been held in detention from 9 months up to 2 years, and recently, at least 33 detainees have had their parole notification and credible fear findings revoked. One asylum seeker was already deported from ElPaso despite the fact that he faces life threatening danger in Bangladesh. Since the hunger strike began, officials have tried to isolate the strikers, and continue to target, isolate and intimidate specific individuals.
The demands of the detainees:
DHS must stop their deportations and investigate the allegations below
DOJ and the Executive Office for Immigration Review (EOIR) must investigate whether these individuals were given a fair and full hearing, including access to interpretation that they could understand, access to their own documents and decisions in their cases
DHS must release asylum seekers from detentio​n​
Transfer these individuals to detention facilities that are closer to their families
Stop the disparate treatment of South Asian immigrants detained in DHS facilities and ensure that these individuals are being provided with interpreters
DHS must provide adequate access to basic medical care and provide interpretation services
The hunger strike was sparked by the deportation of one of the men, but the demands are based on their experience and treatment during the time that they have been at the detention center. The hunger strikers report that:
There is different treatment of South Asian detainees, with harsher responses and punishment for similar actions, compared to others
Many of the detainees are being forced to sign travel documents, and when they refuse to sign, they have transferred them to other facilities or threatened them with 4-10 years in prison

​T​here is no access to adequate medical care, and detainees are told to "drink water" when they complain of health issue​s

There are inadequate interpreters at the court during their immigration proceedings, and some have reported hostility from the immigration judges, with one person remembering the judge saying that there was too much money being spent on them, and that their deportation would help the U.S. save resources.

Their requests to be moved closer to family have been ignored.
Additionally, many of the Bangladeshi hunger strikers reported to advocates that credible fear approvals and parole have been revoked based on their affiliation to a mainstream conservative political party, the Bangladesh National Party. DHS is wrongfully classifying many of the BNP cases as national security threats, thus making them ineligible for asylum.
Moreover, we know that critical legal papers were being withheld from these asylum seekers, making it impossible for them to file their appeals on time. Most of them have already missed their deadlines because they did not receive their documents until the hunger strike.
It is imperative that DHS ensure that these 54 hunger strikers are not retaliated against for making these legitimate demands. Please sign the petition and make a call in their support.