"Campaign victories may be taken away, but the leadership that is cultivated through building meaningful relationships with one another in the struggle can never be taken away!"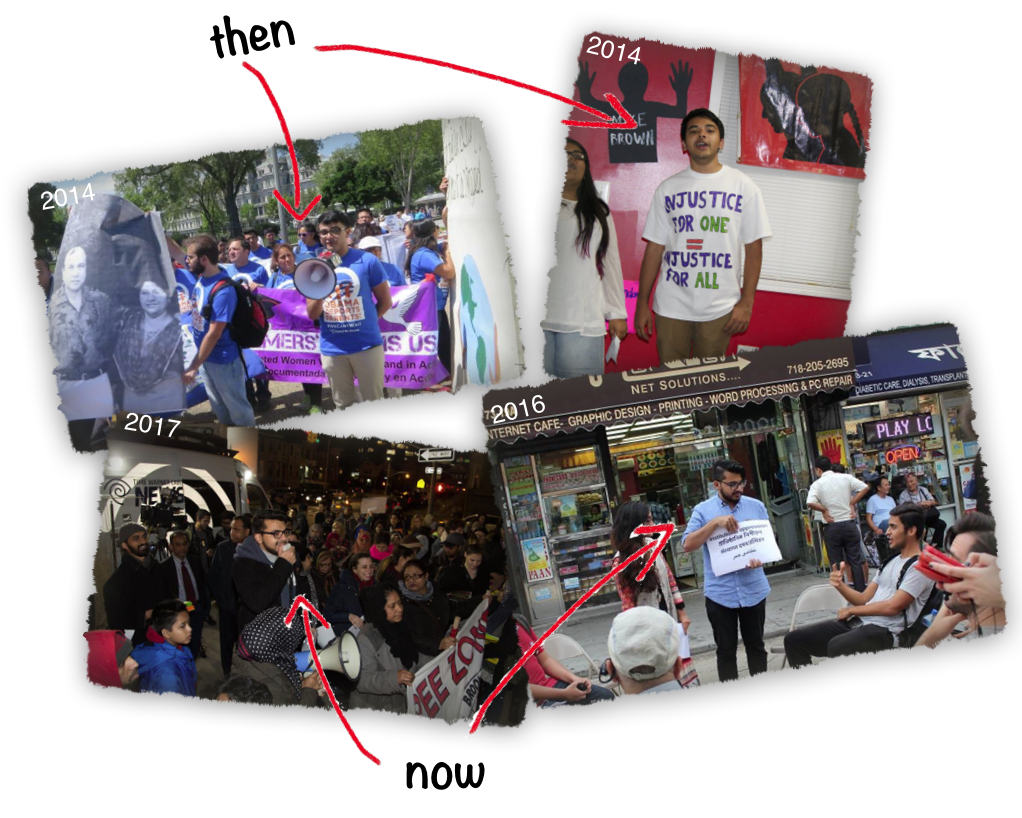 When I first joined the Summer Youth Organizing Institute, I had already been a member of DRUM who got active through the administrative relief campaign in 2014 to expand Deferred Action for Childhood Arrivals (DACA) for other young people and their parents. The internship represented an opportunity for me to learn how campaign work is carried out and to understand what it really means to organize. In the workshops we learned about issues that felt so important to myself as well as for other young people who had never been taught that anywhere else - certainly not in our schools. It was also important to share our traumas, and get mutual support through holding space for each other in meaningful ways.
As a part of the Administrative Relief campaign that summer I remember DRUM mobilized for an action outside the White House in July. Though the action fell on the day of Eid, we still had 10 youth from the summer internship go. For a lot of us that was our first time at the White House and for us to go there and represent the stories of our communities. To be fighting with each other was very powerful. It was also an effort that highlighted DRUM's powerful intergenerational organizing; I got to build with adult members and see how our whole communities were part of the fight for immigrant justice.
Though the internship was a critical experience for me, I think I actually experienced the biggest growth as an organizer the year after when I got the chance to help lead the summer internship as an organizing fellow. As a working-class Desi youth, it was really important for me to take on this fellowship without having to juggle it with other jobs and commitments.
It was through that experience that the significance of the summer program came down to developing the leadership of others to be able to change the unjust circumstances that we live under. I came to understand that leaders before me invested in my leadership in order for me to be an organizer. Whatever campaign victories we win through community organizing might be taken away, but the leadership that is cultivated through building meaningful relationships with one another in the struggle can never be taken away!
Now more than ever, we can't afford to be silent. There is such blatant racism that is being so publicly displayed with little to no repercussion. Its up to us as individuals to gain the tools and resources we need to be able to work with our communities and protect each other, and to organize to fight back against any and all forms of oppression that hold us down. 3 years after the Summer Youth Organizing Institute, I'm the Immigrant Rights Organizer and DRUM. I bring in people into DRUM's membership who are the most impacted by our inhumane immigration policies - including undocumented workers and people who crossed the border by foot. It was through leadership development opportunities like the summer program that I was able to organize on issues I faced with people who are impacted like me. Investing in the leadership of youth is crucial to transforming our world, and this is what makes the Youth Organizing Institute so powerful.
-Nayim Islam, Immigrant Rights Organizer at DRUM
DRUM's Summer Youth Organizing Institute is a six week long internship for South Asian and Indo-Caribbean youth ages 14 - 21 years. Young people learn about issues that impact their communities from racial, immigrant, education, gender, and worker justice. Through interactive political education workshops, participants begin connecting their lived experiences and struggles to systems of oppression. Participants then learn how to collectively challenge those systems through hands on skills building workshops, trainings on community organizing, and arts and cultural projects.