A Reflection on Winning the End of 'Muslim Registrations'
On Thursday, the Department of Homeland Security formally eliminated the regulations that formed the basis of the NSEERS (National Security Entry-Exit Registration System) or Special Registrations program which devastated our communities. At a time when the incoming administration is openly committed to resurrecting such a registrations program, this commendable step by the White House and the Department of Homeland Security in response to community voices and pressure gives our communities fighting chance.
Special Registrations program started in 2002 and led to over 84,000 Muslim boys and men between the ages of 16 and 45 from 24 Muslim majority countries and North Korea being registered, leading to over 13,000 put into deportation proceedings based on civil immigration violations, and causing around 2,800 to be detained, all as a result of lawfully complying with the program. After organizing ended the domestic program, NSEERS continued to subject thousands more to deportation at ports-of-entry.  The port-of-entry registrations subjected visitors from the designated countries, to be subjected to being photographed, fingerprinted, interrogated, and face additional inspections on entry and on exit from the United States, and instituted a mechanism to keep tabs on them for the duration of their visits. Thousands of families were torn apart, jobs lost, and lives, neighborhoods, communities devastated, some of which never fully recovered. This massive and ineffective profiling campaign based on religion and ethnicity was an utter failure even by its own intents, but came at extensive social, ethical, and economic costs for our communities.
---
Our country made thousands of black and brown men line up outside federal buildings solely on the basis of their national origins
---
History
It may be tempting to see this struggle within the limited scope of post-election efforts. But the history of resistance to end the NSEERS program is as long as the program has existed. Credit must be given to all who contributed to this resistance from directly impacted families and individuals, to community based organizations, civil and human rights organizations, media and storytellers, immigration attorneys, and Congressional and government representatives. But we do want to uplift the the grassroots struggles as they provide key lessons for us moving forward.

2002 – Spurred by the mass detentions and by the subsequent resistance ignited in Los Angeles, DRUM formed the NYC Coalition Against Special Registrations along with CHRI (Coalition for the Human Rights of Immigrants) and the Prison Moratorium Project, with a framing that actively drew links between national security, immigrant rights, and mass incarceration
2002-2004 – The Coalition engaged directly with impacted communities and individuals through:
Regular Know Your Rights trainings in neighborhoods across NYC to help people decide whether to register or not

Weekly vigils outside of Federal Plaza

Flyering and on-the-spot Know Your Rights raps with men standing on lines outside federal plaza

Collecting names and contact info of men on lines and then contacting their families if they didn't emerge by evening time

Visiting and organizing men inside detention centers

Supporting families on the outside with housing, finding employment, as well as organizing and speaking to media and decision makers about the impacts of NSEERS

Pressuring the responsible agencies and decision makers to end the program through testimonies by impacted families, or highlighting stories and impacts

Documenting stories and incidents to be compiled by human rights groups into reports and media

Civil disobedience actions in partnership with allies
2003 – Supporting immigrant and refugee right centers, faith institutions, and Canadian immigrant rights allies at the US-Canada border for the thousands of immigrants (especially Pakistanis) who tried fleeing to Canada to avoid NSEERS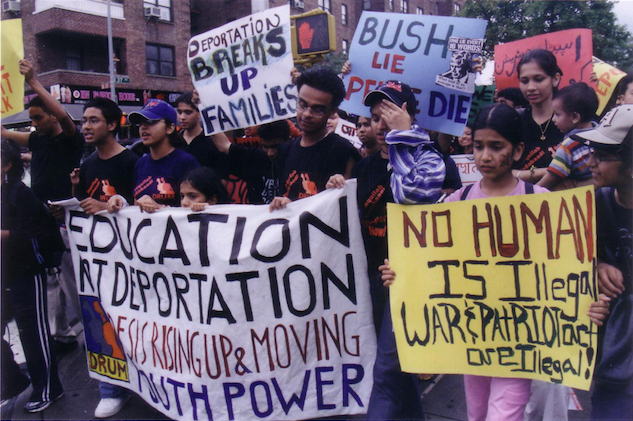 2003-2004 – Bringing together of the communities impacted by or working on NSEERS into partnership with the anti-war movements as part of the efforts against the Iraq War and the against the NYC Republican National Convention

2004-2007 – Coordinating with No One is Illegal in Canada to support all the families and individuals (who fled to Canada in 2002-2003) as they were all deported back to the U.S. as result of the Safe Third Country Agreement

2004-2007 – NSEERS impacted (directly or indirectly) immigrants joining into the broader immigrants rights movement for NY State drivers licenses, against Sensenbrenner bill, and for just and human legalization

2006-2007 – People impacted by NSEERS building partnerships and exchanging stories with communities from the US-Mexico border impacted by the militarization of the border and the deaths in the desert
2008-2011 – Continuing advocacy with policy makers to formally and fully end the NSEERS program

2011 – Welcoming the deactivation of the NSEERS program, but demanding full dismantlement of the program
2011-2015 – Continually pushing on DHS to end the NSEERS regulatory framework so the program cannot beresurrected

2016 – Making a final concerted push after the election through drawing upon histories and lessons from the anti-NSEERS struggles, uplifting leadership of those impacted by NSEERS, collecting 340,000 petitions along with allies and signing organizational letter with 200 allies calling for dismantling regulatory framework, an action in Washington DC, meetings with the White House and Department of Homeland Security – all centering the impacts on and the lived experiences of communities targeted by NSEERS
---
14 and 15 year olds were forced to choose between schooling and dropping out so that they could help their families eat and pay rent
---
 Key Lessons to Draw for Our Movements in the Coming Period
The vast majority of the above work was never funded. In the aftermath of 9/11, the overwhelming amount of the funding and resources went to large legal and policy organizations. There is a strong conservative tendency to fund large groups, who often don't have the ability to do the get-your-hands-dirty work, as well as a fear of the work being done by small groups that is led by or with the most marginalized and vilified sections of our societies.

It is the deep grounding that comes about from working directly with impacted communities (while standing in lines, in detention centers, helping families move out after being evicted, with 15 years olds figuring out whether to drop out of school or not in order to financially support their families, families to figuring out and planning border crossings, political and social exchanges between communities impacted by different manifestations of borders, and bringing impacted people into strategizing and taking action in our movements, etc) that really gives us larger political direction and vision for what solutions are viable and what are not.

A lot of the cross-movement and cross-sector alliances that we see now took years of work and flourished at the grassroots for years before such partnerships became acceptable or normalized at the grasstop levels. We need to build alliances horizontally across sectors and movements, as well as vertically from the grassroots to the grasstops of advocacy and policy groups. But the best way to do this is by centralizing and starting from the grassroots.

Being mindful that our activism and allyship is not just performative (eg. allies registering as Muslims) or symbolic, but that it is rooted in actual strategies, needs, demands, and sites of leverage that are drawn from the concrete experiences of impacted communities and that actually disrupt the functioning of unjust systems. Otherwise, we cede valuable ground and the battles are already lost. We have to be aggressive and not "wait and see" when we actually hear others saying exactly what they will do. Give no inch. Cede no ground.
Looking Ahead
As we go into the incoming administration, we can be assured that they will follow through on their plans to resurrect or recreate this or similar programs. The fact that they will have to start from scratch means, at the minimum that we bought our communities time to prepare, but more importantly that will have opportunities to organize, leverage, disrupt, and possibly even block their efforts. The lessons above will be useful not only in that struggle, but for the upcoming period as a whole.
This reflections would be remiss if we didn't acknowledge some of the key locations and organizations in those efforts that we had the honor of working alongside (by no means a comprehensive list):
New York: Prison Moratorium Project, CHRI – Coalition for the Human Rights of Immigrants, AALDEF – Asian American Legal Defense and Education Fund, Families for Freedom
Los Angeles: South Asian Network
Chicago: Arab American Action Network
San Francisco: ASATA (Alliance of South Asians Taking Action), Asian Law Caucus
Nationally: Arab-American Anti-Discrimination Committee, National Lawyers Guild, ACLU, SAALT, NNIRR – National Network for Immigrant and Refugee Rights, AFSC – American Friends Service Committee, Rights Working Group Canada: No One Is Illegal (Montreal and Toronto)

Please support these organizations, especially the local ones by donating, volunteering, and following their leadership.
Looking forward to being in the struggle with all of you!